Ballon Decor
Balloon decorations can be one the most versatile, whimsical and dramatic design elements at an event or party. Whether they're used to create centerpieces, arches, reindeer for your holiday party or dropped from the ceiling, anything you can imagine can be created by our amazing balloon artists!
 Outdoor Decor
Flags
Our big, beautiful festival flags let everyone around know that there's fun afoot and it's right here! These awe inspiring flags are the largest portable flags available. We know, we designed them!
We can offer you our standard primary colored 30' tall festival flags, or we can create something extra-special using your company logo or other customized artwork!
Sky Dancers
These large Tubes have a live of their own. Powered by large fans, They draw unprecedented attention to your event as they undulate and sway in the breeze, letting everyone in the area know where the party is.
Audio Visual Services
We provide top-notch audio visual services in the San Francisco Bay Area and beyond, regardless of the scale of your needs. Whether you need a basic AV set up with a simple projector, screen and a microphone or a video wall and full-scale sound system with a timber-rattling full array concert audio. We have the in house capabilities to product the sound and staging for a rock concert, and the vendor relationships to design and integrate an immersive image mapping experience or an elaborate laser show. Whether your AV needs are in San Francisco, or in San Jose and beyond, we are committed to providing you the best audio, video, multimedia, and/or lighting equipment possible in the Bay area and beyond, with each package tailored to your specific venue, environment, and budget.
Draping
Whether your intention is to mask certain areas of your venue from view or to create a dramatic and sensuous environment of visual splendor, draping can be one of your best allies. Readily available and usually simple to install, "pipe and drape," as it's called in the event industry, can be the perfect solution for dividing a large space into separate areas or turning a dull, ho-hum venue into a luxurious and colorful "hot spot," where your guests can drink, dine and dance the night away!
Tent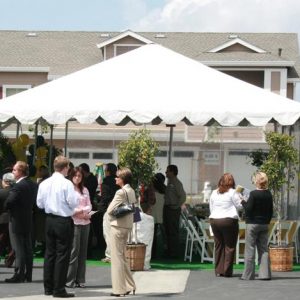 From 10X10 foot booths to 10,000 square foot circus tents with heating systems, we can accommodate any tent need you may have. We work with vendors and contractors throughout California to provide you with the best tents available at the best prices possible.
Tents:
Inflatable tents
Festival tents
Canopies
Pool coverings
Circus big tops
 Space Shaping
Now you can turn a dull, boxy banquet hall into a sensual, futuristic environment with our unique and dynamic space shaping.
Large, self-standing geometric Lycra shapes, back-lit with brilliant, programmed, color-changing LED lights, these dramatic and stunning design elements set the mood for an exciting party.
Theme Parties
Creating an event with a unique and well-orchestrated theme party provides your guests with the opportunity to immerse themselves in a total environment. Carry them away to a place where they can forget the "real" world and watch them relax and join in the fun!
Browse Event Decor Elements