Mission Dolores Park – Picnic Venue in the San Francisco Bay Area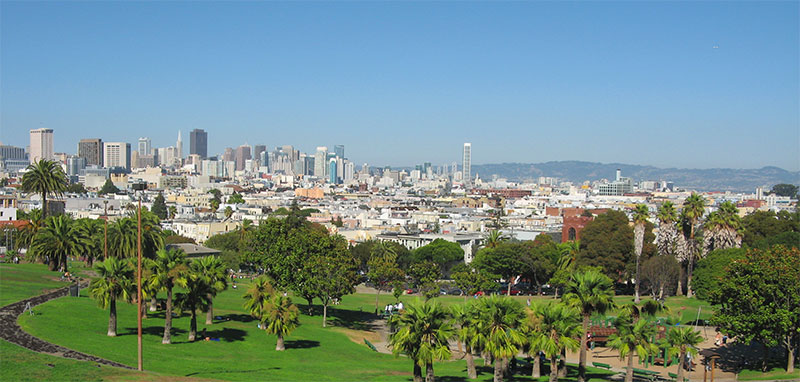 In San Francisco, there are many beautiful parks that are great places to have corporate picnics and BBQs. One of the best park venues we believe is the Mission Dolores Park. The park is situated in the heart of the city and is close to many attractions and entertainment. The Park has approximately 16 acres of land that has gorgeous green grass and plenty of trees that offered shade. It offers plenty of space for a large number of people to attend. There are many activities to enjoy while spending time in the park venue.
In the park, there are basketball and tennis courts to take advantage of. People who attend the picnic can take part in these competitive sports while having fun. A soccer field is also available for individuals to play and get extensive exercise. There is a big playground for the kids to enjoy and several doggy play areas for pets to run around and play. Entertainment is plentiful for people to enjoy. This includes festivals, events, concerts and much that are held in the Mission Dolores Park that are very enjoyable. The beautiful view of the city is amazing to see. This is a popular park in San Francisco because of the numerous things to do and spacious area of ground to enjoy.
This park has informative history and was created on an old cemetery and was once used as a camp for people of refuge. The park has recently upgraded and improved many of the facilities and attractions that it has to offer. There is now a multiple purpose court that people can use for numerous activities. An overview lookout point is now located in the southwest section of the park for visitors to enjoy. Bike racks were installed for bikers who wanted to leave their bikes and walk around on foot. The paths have been renovated for hikers and joggers to safely travel on. It is a good place to get exercise while taking in all the views of the city.
The entrance to the park was remodeled and expanded for easier access into the 18th street location. As people explore the south section of the park; they will have access to a variety of picnic areas. These newly renovated picnic areas offer a great place to spend time with co-workers or clients. If you are a business or corporation that is looking for a remarkable park to have a picnic at; this is the area that would be perfect. Not only does the Mission Dolores Park have the room to obtain the number of employees and their families in one location; it also has entertaining activities scheduled.
This location would be a nice fit for families who have children because of the playground that kids can have fun with. It also has two dog play areas for employees who need to bring their pets to the picnic. The different sports activities can be a great way to encourage everyone to interact in a fun and competitive environment. This could be a perfect picnic environment that will be talked about for years to come.
Do you like this venue?